Helpful hints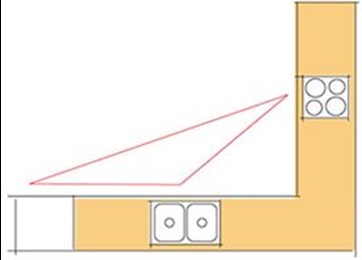 When we are talking about kitchen planning it is always useful to apply functionality rules like right organization of work triangle defined by the National Kitchen Association as an line from the sink, to the center of the cook top to the refrigerator and back to the sink with free zones among them. It is designed to minimize traffic within the kitchen so the cook isn't interrupted or interfered with.
KITCHEN ZONES
If look at kitchen as dynamic space we can divide it into 5 zones, which is clearly visible from picture bellow :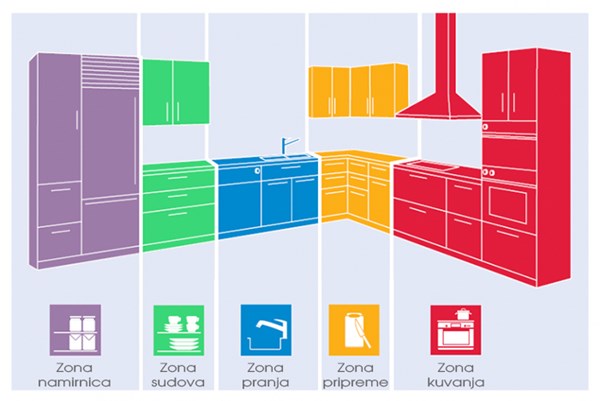 CONSUMABLES ZONE
This area is used to store most of your food: cans, rice, pasta, fruit, vegetables, etc… Central part of this zone should be refrigerator.
NON-CONSUMBLES ZONE
The area is used to store everyday dishes, including plates, bowls, glasses and silverware
CLEANING ZONE
This area contains the sink and dishwasher, which have to be placed next to each other because they have same water installations. It is also recommendable to keep here cleaning supplies, wastebin.
 PREPARATION ZONE
The area where most of your kitchen preparation happens. You keep here things that you use most frequently in food preparations like spices, cutting boards, cutting knives. You can also place on worktop some smaller kitchen appliances as toaster, juicer, etc…
 COOKING ZONE
It is the last and the most important kitchen zone. The area contains stovetop, oven and possibly the microwave. You should also keep here kitchen utensils like frying pans, saucepans, cooking pots, casserole pan.
ZONES SCHEDULE DEPENDING TYPE OF KITCHEN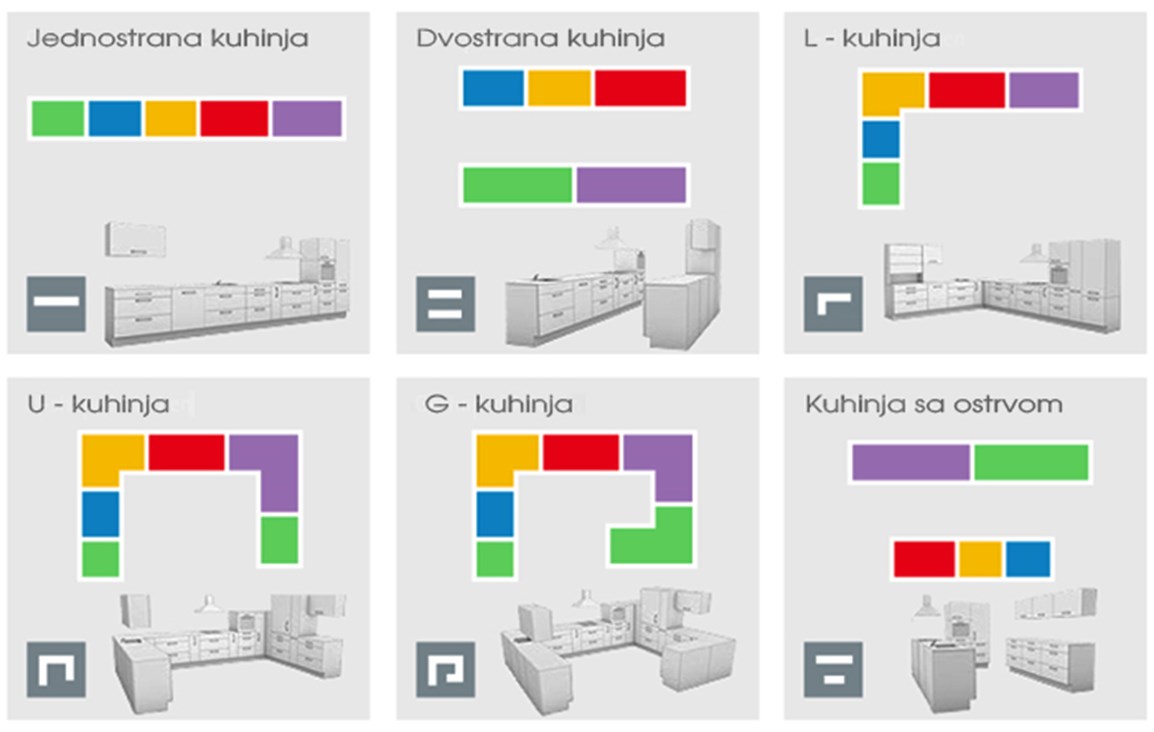 ERGONOMIC ZONES
We can have good ergonomic in the kitchen if we dispose the most used food on optimal height (area marked orange), and not so often used food on top or at the bottom (white zone)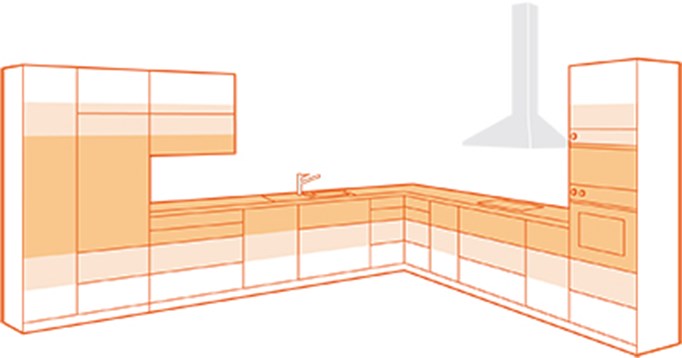 WORKING SURFACE HEIGHT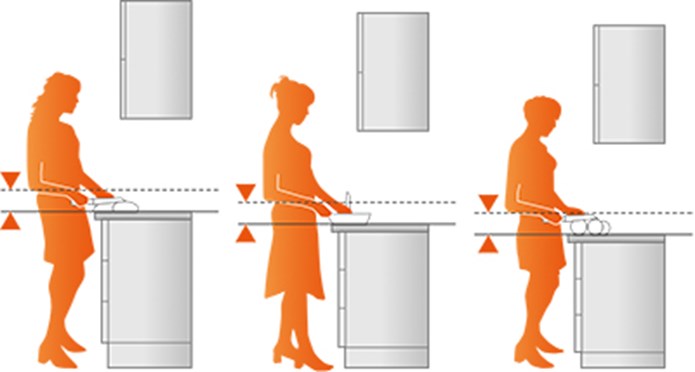 Ideal working surface height can be easily determined in a way that distance between working surface and elbows should be 10-15 cm.
Naša firma obezbjedjuje dostavu i montažu vlastitih proizvoda a garancija našeg kvaliteta su zadovoljni kupci širom Evrope:
Bosnia and Herzegovina
Banja Luka,
Prijedor,
Derventa,
Doboj,
Bijeljina,
Sarajevo,
Brčko,
Mostar,
Modriča,
Bihać,
Tuzla,
Gradiška,
Prnjavor,
Zenica,
Trebinje,
Ploče,
Zvornik,
Višegrad,
Foča,
Livno,
Tomislavgrad,
Ilidža,
Medjugorje,
Mrkonjić grad,
Sanski most,
Cazin,
Kozarska Dubica,
Travnik,
Konjic,
Vitez,
Pale,
Velika Kladuša,
Jajce,
Kiseljak,
Fojnica,
Široki Brijeg,
Imotski,
Grude,
Srbac,
Ugljevik,
Lopare,
Goražde,
Serbia
Beograd,
Novi Sad,
Kragujevac,
Ub,
Niš,
Subotica,
Sombor,
Vranje,
Ruma,
Čačak,
Šabac,
Pančevo,
Loznica,
Vršac,
Valjevo,
Užice,
Zlatibor,
Kraljevo,
Kruševac,
Jagodina,
Smederevo,
Zrenjanin,
Kikinda,
Zaječar,
Prokuplje,
Novi Pazar,
Kopaonik,
Negotin,
Stara Pazova,
Nova Pazova,
Indjija,
Croatia
Zagreb,
Osijek,
Split,
Dubrovnik,
Pula,
Zadar,
Rovinj,
Rijeka,
Hvar,
Slavonski Brod,
Karlovac,
Varaždin,
Slovenia
Ljubljana,
Maribor,
Novo Mesto,
Montenegro
Podgorica,
Budva,
Herceg Novi,
Nikšić,
Bar,
Ulcinj,
Austria
Wien,
Salzburg,
Villach,
Graz,
Linz,
Innsbruck,
Klagenfurt,
Bregenz,
Germany
Augsburg,
München,
Nürnberg,
Regensburg,
Rosenheim,
Lindau,
Passau,
Memmingen,
Ulm,
Stuttgart,
Mainz,
Frankfurt,
Potsdam,
Erfurt,
Berlin,
Rostock,
Karlsruhe,
Heidenheim,
Saarbrücken,
Kaiserslautern,
Köln,
Leverkusen,
Duisburg,
Gelsenkirchen,
Dortmund,
Hamburg,
Bremen,
Hannover,
Switzerland
Bern,
Basel,
Zürich,
St. Gallen,
Genf,
Lausanne,
Wintherthur,
Luzern,
Lugano,
Chur,
Zug,